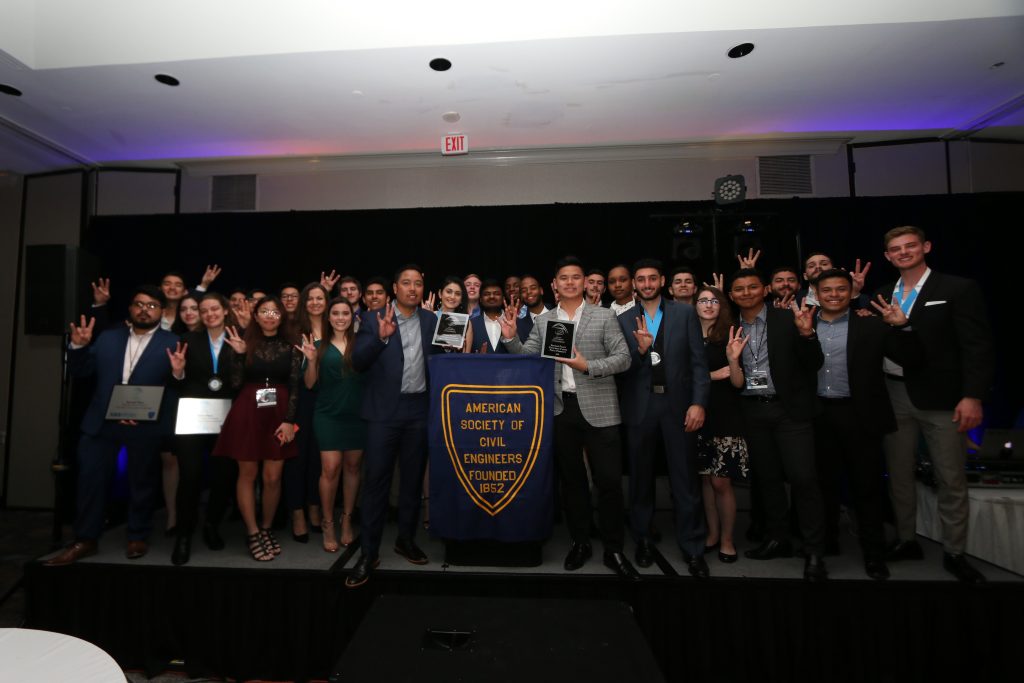 Introduction
ASCE Texas Section's Regional Student Symposium fosters close association between engineering professionals and over 350 university students. The Student Symposium combines the Texas-Mexico Student Conference's Concrete Canoe Competition as well as a variety of other student competitions including Concrete Bowling Ball, Concrete Frisbee, Surveying, Blue Sky, as well as career fair, and seminars into one event. Each year, the Student Symposium is hosted by an ASCE Student Chapter with support from their local Branch and the Texas Section. The Student Symposium includes seminars on technical topics and power skills that support the transition from the learning environment to the professional arena.
ASCE UH has been participating in the concrete canoe competition since the 1970s and in the Texas-Mexico Regional Student Symposium & Conference since it's inception in 2015 when it was hosted by ASCE Student Chapter at Lamar University in Beaumont, TX.
This year, ASCE UH was able to fundraise enough money such that it was able to take a whopping 30 students to the event, all fully paid for. This was a result of an increase in the number of participants in the concrete canoe competition and strong leadership of our concrete canoe captains who were able to appoint students in new leadership roles.
Concrete Canoe Competition
On September 6th 2019, a Request For Proposal from the American Society of Civil Engineers – National Concrete Canoe Competition was released. This proposal was on behalf of a standardized concrete canoe design for future ASCE competition teams to use. The University of Houston was excited to submit their design called Graffito as the model for upcoming canoes. "Grafitto" is a tribute to the rich street art culture that has developed throughout the years within Houston. Our design is well suited to become the model for forthcoming competitions because of the innovative features that have been incorporated to improve ease of construction, minimize waste, increase durability, and enhance maneuverability in the water.
Understanding what the RFP asked for was of the utmost importance, so we set out to review and understand the specifications outlined by assigning team members to this task. The request was for a concrete canoe design that was in full compliance with the specifications and could be used as a model for future concrete canoe competitions. This meant that all Material Technical Data Sheets were to be included to verify compliance with the specifications. Additionally, the design needed to comply with all RFI's that were submitted and answered. After our design was completed, we then needed to then build a full-scale prototype of the canoe that would be rigorously tested and analyzed at the ASCE Texas-Mexico Regional Student Symposium in Arlington, TX. The following goals were set out to in order the fulfill that requested design:
Study the Legacy (past year's concrete canoe) and seek to improve on it's performance at the previous student symposium. This included looking to improve the overall shape of the canoe, in order to increase the hydrodynamic efficiency. It also included inspecting various ways in reducing the weight of our canoe for the year
Provide a design that would be durable enough to withstand transportation and competition races
Improve ease of construction and minimize waste by thinking of ways to reduce cost and construction time for future canoe builds
With that being said, Graffito was both a memorable and historic concrete canoe for ASCE UH. At the conclusion of the symposium, ASCE UH brought home the first concrete canoe plaques since 2012! This was a testament to the unwavering support and participation of all students involved with our concrete canoe project and also the countless hours of preparation, planning, and leadership of our captains this year. We also had great interaction and mentorship from our senior class of 2020 which played a huge role in the successes we had. The following awards were received:
2nd Place Concrete Canoe Co-Ed Sprint
2nd Place Concrete Canoe Final Product
3rd Place Concrete Canoe Oral Technical Presentation
4th Place Concrete Canoe Overall (out of 14 universities)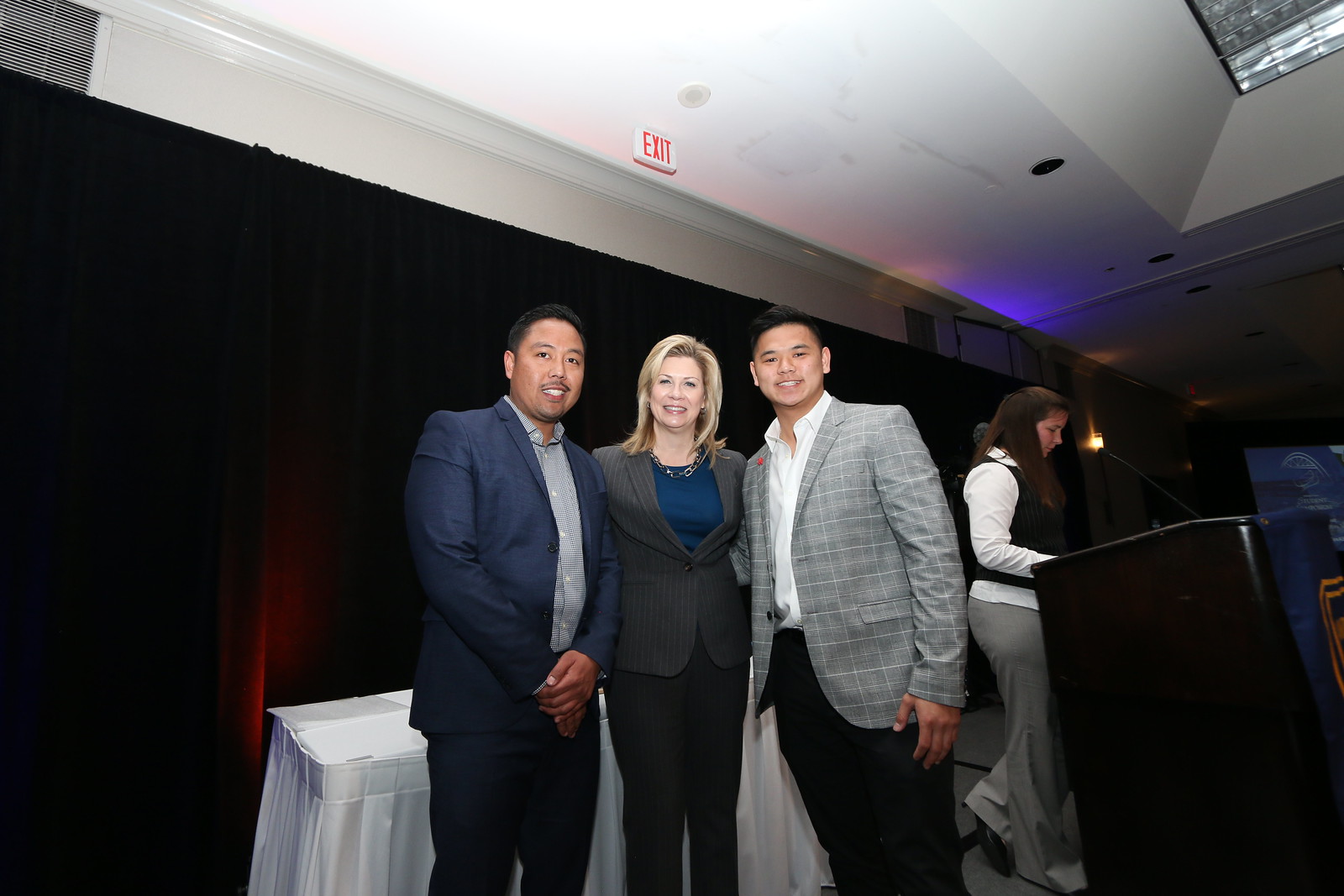 Blue Sky Competition
ASCE UH also participated in the Blue Sky Competitionthis year, which was the first time! In this competition, our team had an opportunity to address various topics by providing ideas and solutions to innovatively address "wicked" problems, existing now or that could exist in the future. These topics included a number of large-scale and impactful disruptors, including rapid advances in technology and major stressors facing the world and, subsequently, the built environment.
Our team decided to tackle the idea of Smart Mobility for Smart Cities: Transforming the Way We Live. Smart cities are defined by various characteristics which include sustainability, safety, well-established infrastructure, and efficiency, among other things. Smart cities are able to perform their daily operations effortlessly with only minor inconveniences. Due to these traits, we believe that major cities in Texas such as Houston, Austin, Dallas and San Antonio have the potential to be smart cities. However, they all face similar issues that prevent them from reaching that point: high traffic congestion and numerous car accidents create a cycle that has even greater side effects. All these effects point to an underlying cause; continuing the use of non-autonomously operated vehicles poses a great expense to cities which seek to improve their functionality. To read more about the competition and what our solutions our team suggest, click on the following link: 2020 ASCE-UH Blue Sky Competition
This year's Blue Sky Competition team was able to also bring home multiple honors! The following plaques were received:
2nd Place Blue Sky Written Proposal
3rd Place Blue Sky Graphic Marketing
3rd Place Blue Sky Overall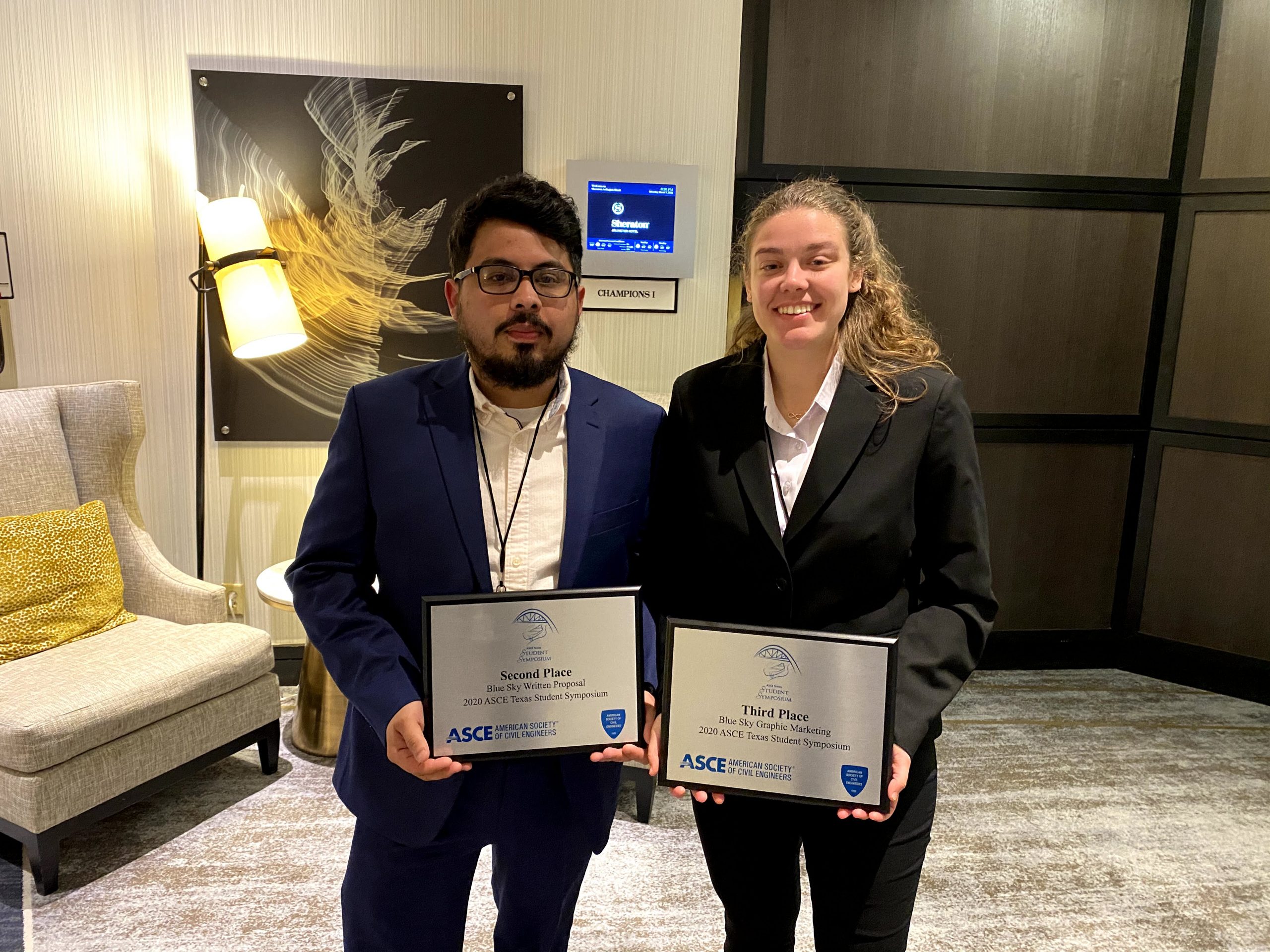 Other Competitions:
Concrete Bowling Ball
Concrete Frisbee